VMS
it's not just about visitors
Authenticate Visitor Details
A tamper-proof process of capturing guest details without mobile numbers being revealed to security or receptionist. Ensure complete data privacy.
Enhance Visitor Experience
Offer guests a hassle-free experience at the point of entry and exit. Eliminate wait time, long queues, and cumbersome check-in processes.
Improve Premises
Security
Get rid of security loopholes, data misuse, theft, loss, and manipulation that arise from paper registers, manual processes, on-premise systems.
Authenticate
Visitor dials his / her mobile number through the dial-in feature.
Record
A new visitor's photo and ID proof is captured. Previous proof is sufficient for repeat visitors.
Confirm
Confirmation is sent to the host with visitor photo and details (optional).
Pass
Once approved, a print pass or an epass is issued.
EntryPoint is a complete and an intelligent visitor management system that is integrated with hardware like boom-barriers, turnstiles, flip-gates, access control system, vehicle license plate recognition system, parking management system, etc.
---
It is a cloud based solution and requires no on-premise infrastructure.
It is not a one-VMS-fits-all solution. We have fine-tuned it to fit exact requirements. We help you perfect your processes as per your needs.
Our solution has 100+ features. See a few important ones as follows.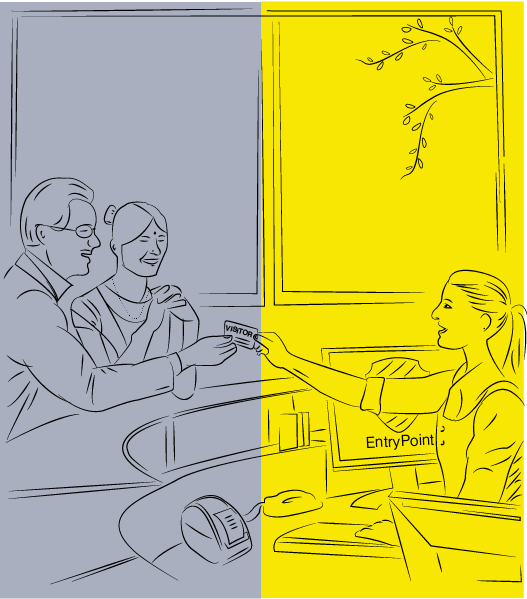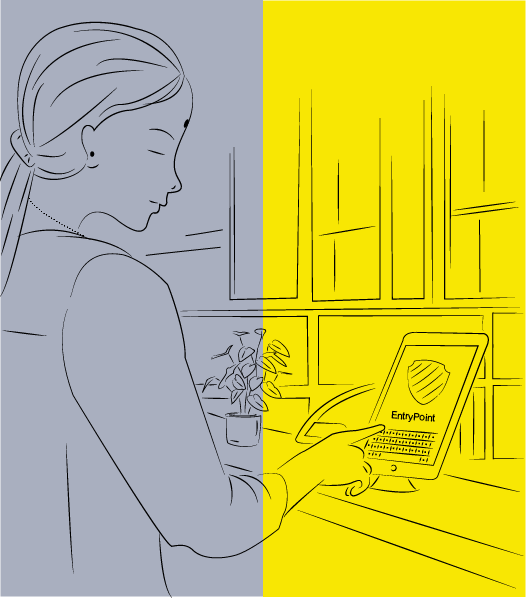 Key
features of EntryPoint VMS
Real-Time Actions
All action happens in real-time - host notifications about visitor entry/exit, approvals, appointments, management access to on-the-ground issues, etc.
Paper or ePass
We provide paper pass or ePass solution depending on your requirements.
Self-Kiosk
Operator, assisted, or self-kiosk mode - you can set it up as per your business case.
Customisable
What works best for you? It's not a one-fit-all solution. It can be customised to your needs and processes.
Works Offline
EntryPoint VMS works even when offline. Data syncs on reconnection.
Emergency Alerts
The management or administration can broadcast emergency messages and alerts to all when needed.
Hardware Integrated
EntryPoint VMS seamlessly integrates with hardware - new as well as existing.
Data Guarantee
We assure zero data loss. Your data is safe, secure, and always ready for use.
Trends & Reports
You can access all information in a usable format. Your data is ready for use for further decision making.
Data Privacy
There is no scope for leakage of personal details. The process is foolproof. We never sell data - we give that guarantee.
Cost-Effective
For all the automation goals it accomplishes, EntryPoint VMS is highly cost-effective - benefits far outweigh costs.
User Friendly
1 second to approve a pre-registered entry. Less than 20 seconds for complete authentication of a guest.
Offices & Corporates
EntryPoint Visitor Management System is used in offices and corporate to smoothen the guest, staff, and helper entry and exit processes. For example, instant authentication of new guests, express check-in of repeat guests, quick staff and helper log in, etc.
Business
EntryPoint automates the management of business and financial centers that log in entry and exit of thousands of visitors each day. It recognises and manages all types of people - new and repeat, staff and helpers. It handles the entry and exit of a wide range of things like vehicles and assets.
Schools and Colleges
EntryPoint VMS ensures the safety and security in educational institutions. It not only manages visitors and premises but also takes care of issues such as school bus speed limit check, a child's school / college bus journey, non-parent child pick up and drop.
Factories
All factories have unique challenges - some of them very different from other premises. E.g., material pilferage, vehicle misuse, false fuel claims. EntryPoint VMS has been built to take care of the diverse needs of factory settings and completely automate the management of factory premises.
Residential Apartments
EntryPoint VMS is indispensable for all residential apartments. It accomplishes much more than what a simple visitor management system does. For example, controlling unwanted visitors and problems related to entry and exit of cabs, delivery boys. Or tracking use or misuse of facilities and clubhouses.
Govt. and Other
EntryPoint VMS manages premises in sectors such as government, hospitals, hospitality, etc. Each of these sectors have immense and diverse security challenges. EntryPoint VMS has been developed to cater to the unique requirements of all these premises.